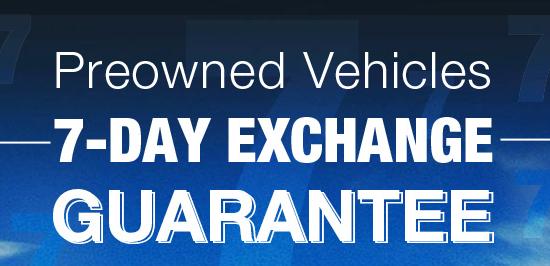 At Hyundai of Everett, we research vehicles' Carfax report for title inconsistencies. Then we check the vehicles service history (if applicable) for signs of misuse, damage, or neglect. Our experienced buyers visually inspect each vehicle for cosmetic and mechanical flaws. We then make certain that it passes our stringent inspection process. We follow a multi-point mechanical and cosmetic inspection, to make certain that Seattle area shoppers get a vehicle they can count on. We're so confident your Hyundai of Everett inspected vehicle will exceed your expectations, that we proudly offer a:
7-DAY EXCHANGE GUARANTEE
If you don't like the vehicle, bring it back to us within 7 days OR 500 miles* and exchange it for another Hyundai of Everett in-stock pre-owned vehicle. No questions asked.
PROGRAM DETAILS
The purchaser may exchange eligible pre-owned vehicle within 7 calendar days of purchase (with the day of purchase as the first day) or 500 miles (whichever comes first) for any reason, if not completely satisfied with the purchase. If the purchaser chooses to exchange this vehicle back into Hyundai of Everett, for another in-stock pre-owned vehicle, the purchaser will receive credit for the following amounts paid towards the original vehicle returned:
    -The down payment
    -The "agreed upon trade in value"
    -Any amounts paid toward the principle balance / capitalized cost of the finance agreement
If the purchase price of the vehicle being traded in for is less than the purchase price of the vehicle being returned, the purchaser will receive credit for the difference. If the purchase price of the vehicle being traded in for is more, the purchaser will pay the difference. Any changes or modifications in finance agreements resulting from these transactions are subject to the approval of the funding source. 
Eligibility:
*All Hyundai of Everett inspected pre-owned vehicles are eligible to be traded within the first 7 calendar days (including the day of purchase as the first day) or 500 miles after delivery (subject to the exclusions below) for another vehicle that is in-stock. The vehicle must be returned to Hyundai of Everett in the exact condition that it was delivered to the customer in, without any damage or excessive wear and tear.
Exclusions:
    -Out of state buyers (non-Washington State buyers).
    -Fleet vehicles.
    -Vehicles used for taxi or delivery services.
    -Customers or family members of customers who have previously returned vehicles under these programs.
    -Vehicles acquired in exchange under these programs.
    -Vehicles that have had any after-market accessories installed.
Exchange Details:
Vehicles must be exchanged at Hyundai of Everett in original condition by the original purchaser and be accompanied by all original documentation. The dealership WILL NOT refund tax, title, registration, dealer documentation and or license fees. However, the customer may be eligible for abatement from the state for some of these costs. Customer must pay any interest and principle balances and/or any other amounts due in order to provide a free and clear title of the vehicle to Hyundai of Everett. Vehicle insurance, life insurance, disability insurance and/or any related expenses are all separate transactions from the vehicle purchase or lease transaction and are the sole responsibility of the customer.
Vehicle Inspection:
Any vehicle returned under this program, will be inspected by the General Manager of Hyundai of Everett. The vehicle will be inspected for eligibility, damage and excessive wear and tear. If it is determined that a non-warranty repair has been performed or is necessary and equals $250 or greater, the vehicle is not eligible to be returned. If this repair amount is less than $250. The damage repair estimate will be deducted from the refund or credit amount due.